Wellingborough Kempo Karate Club

Instructors Profile

Sensei Jo Bazylewycz (3rd Dan)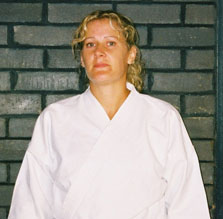 Jo has been training continuously since 1989, well almost, she did take some time out to have a baby 13 years ago but started training again as soon as she was able.

Jo has trained hard over the years and recently became 'WKKC's first female 3rd Dan'.

August 1996 Attained 1st Dan

Kozukukai grading panel inluding Derek Ridgeway, Steve Kaczymerycz & Mark Sessions.

May 1999Attained 2nd Dan

Oct 2003 Attained 3rd Dan.

Grading Panel included Julian Mead & Steve Kaczymerycz & Mark Sessions

She has competed in many competitions over the years, including B.A.S.K.A, B.I.K.O, U.S.A, A.K.A, Shindokai and various freestyle tournaments.

In that time Jo has achieved:

45 Gold Medals

38 Silver Medals

34 Bronze Medals

The events included Kata, both team and individual and Kumite, both team and individual.

Was a member of the B.A.S.K.A national squad and represented England against Scotland in Glasgow.

Jo's Karate has benefited by having the opportunity to train with the likes of :

Mick Bazylewycz

Steve Kaczymerycz

Harry Cook

Julian Mead

John Horan

Greg Wallace

Garth Waldrop

Paul Cambell

Proudest moment

Amongst Jo's proudest moments apart from giving birth to Jake are:

Achieving 1st Dan and every Dan grade since.

Being crowned B.A.S.K.A Grand Champion for Team Kumite 1999

& Individual Kumite 1997.